arrington Goldson wants to change your mind about the way you eat. The Easton-based chemist, culinary instructor, blogger and Instagram darling is working hard to raise awareness of the benefits of a plant-based diet. If Goldson had his way, all of America would be sitting down to meals that look nothing like what we're used to.

At an age when most young people are focused on work and relationships, Goldson's attention turned to heart disease and diabetes. "I was always interested in health and nutrition, fitness and bodybuilding," he explains, "but when I turned 24 or 25 my interest changed. Instead of losing weight or looking better, I wanted to live better and improve my quality of life."

Goldson, now 30, specifically wanted to learn all he could about the mechanism of disease. He took a deep dive into the literature, studied with nutritional scientists at Cornell, and what he found surprised him. The heart disease and type 2 diabetes he believed were an inevitable part of aging? Actually not inevitable—and instead tied 100 percent to what we eat. Even more intriguing: a whole-food, plant-based diet would not only prevent these diseases, but would reverse them.

To the uninitiated—and that includes most Americans—a whole-food, plant-based diet consists of foods that are as close to their natural state as possible, including whole grains, fruits, vegetables, legumes (beans), nuts and healthy oils. Meat, eggs, milk, honey and other animal products are not included.

Goldson had always been a healthy eater, but he couldn't think of a reason not to try the diet. His results were dramatic: he lost 30 pounds, but none of his muscle, in six weeks. He stopped falling asleep after meals. His energy increased. After adjusting to the increased fiber, his digestion stabilized and became more regular than ever. His skin developed a glow. And it wasn't even that hard.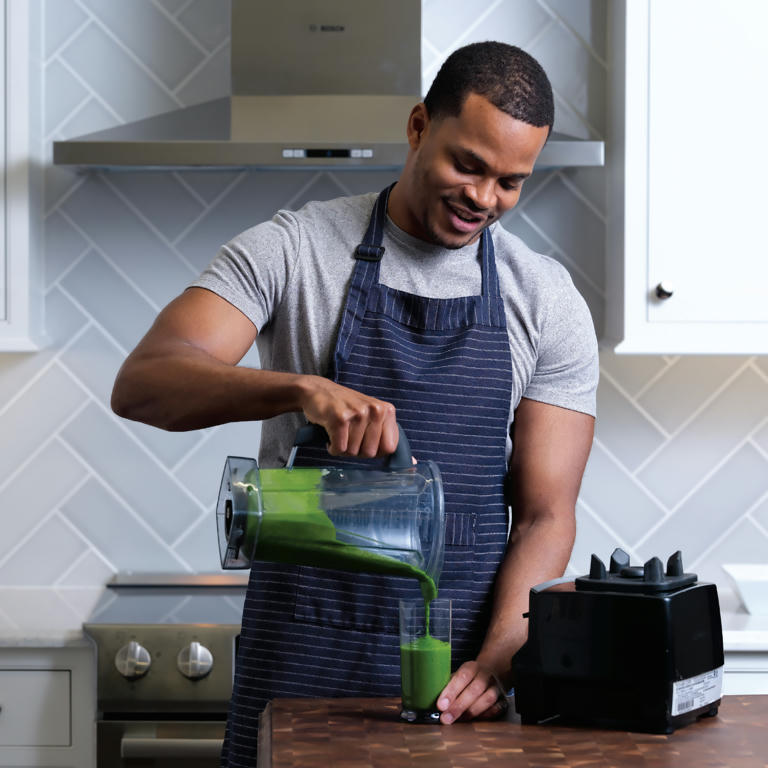 "If you are someone who has been eating the standard American diet for a lifetime, which is most of us, you will feel a difference almost immediately [on a whole-food, plant-based diet]," Goldson says. "If you are an active person, it will get you where you want to be faster. I was very active when I started this… never overweight, but sort of a thick guy." His athletic ability actually increased after just one month of eating the new way.

A self-described "sprinter guy," Goldson could never do distance, but all of a sudden, he was running a 5K. "It absolutely blew my mind."

The news was too important not to share. And Goldson was upset that he'd never before come across anything in a magazine, blog, movie or on TV that addressed disease reversal. No one talked about it—not doctors, or even dieticians very much. "How can I go my whole life unaware that I don't have to have heart disease?" he mused. "I thought I could do my small part and be that one person for as many people as possible."

Goldson launched Food Health Fit (foodhealthfit.com), at first a "nerdy nutritional blog" where he tried to explain things to people. He quickly realized the hard-core nutrition stuff made their eyes glaze over. So he steered the blog's content in the cooking direction, and that made all the difference. "When you give people good food, they are put in a better mood immediately," he explains. "It is much easier to sell a plant-based diet if you start with food."