PARTNER CONTENT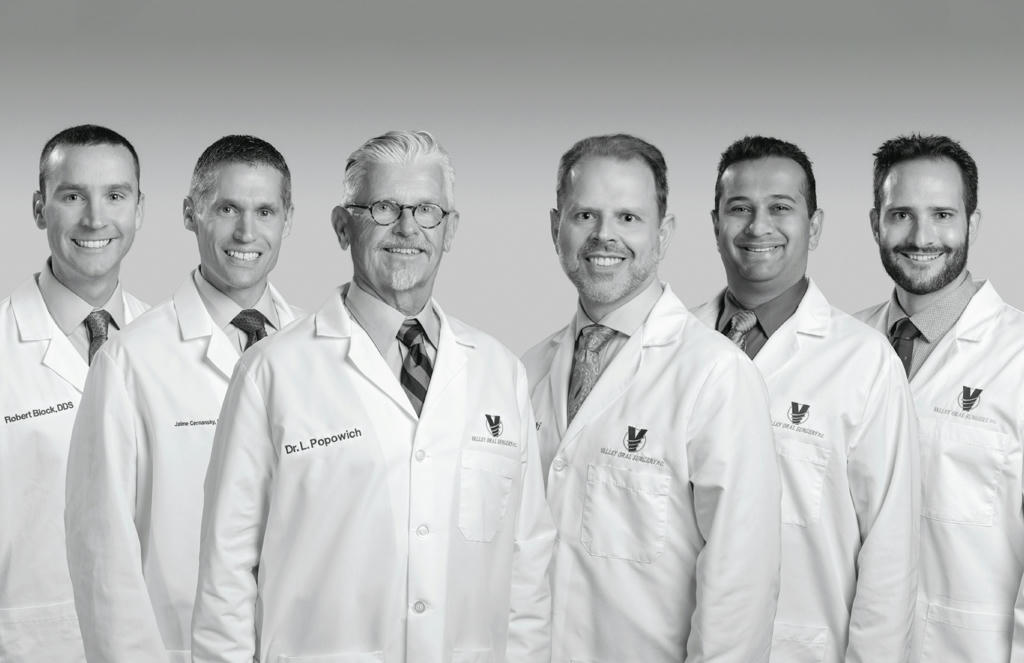 Left to right, Robert Block, DDS; Jaime Cernansky, DMD, MD; Laurence Popowich, DDS; Robert Laski, DMD; Niral Parikh, DDS; Markus Hill, DMD
THE FACE OF
Comprehensive Oral Surgery
Valley Oral Surgery
locations in Allentown, Bethlehem & Lehighton | 610.437.1727 | valleyoralsurgery.com
---
When a painful tooth leaves no choice but extraction, there is a choice of where to have it done. For almost four decades, thousands of Lehigh and Mahoning Valley residents have put their trust in the skilled doctors at Valley Oral Surgery. Surgeons there provide a full scope of oral and maxillofacial services, including wisdom tooth extractions, tooth extractions, dental implants and bone grafting. They also perform corrective jaw surgery and repair traumatic facial injuries. With three offices in Allentown, Bethlehem and Lehighton, help is just a short drive away.

Patients of all ages receive prompt attention to their needs. "We strive to see emergency patients the same day," say says Dr. Laurence Popowich, who helped found the practice in 1983. From kids having their wisdom teeth removed to seniors who need a gentler touch, the caring staff goes to great lengths to put patients and their families at ease. Even the office environment is specially designed to soothe and relax.

It also helps to have doctors who listen to patient concerns, because no one looks forward to oral surgery. At Valley Oral Surgery, an excellent result means little or no pain from a procedure. They strive to help patients regain their confidence with a new smile in less time, and with fewer procedures than anyone could have imagined.